I have very ordinary brows. they use to be fabulous and thick, but at a Trade Show in London a couple of years ago, I thought I would try brow threading and unfortunately they removed the majority of my brows and I walked away from the stall in tears and feeling as bald as a badger!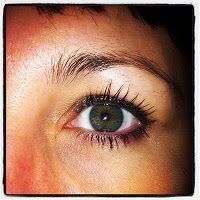 The concept is to have perfect brows every single day with minimal fuss using a product that is regarded as semi-permanent. After seeing a demonstration I had to have a kit myself. The kit contains the colour of choice (and there are 8 different colours to choose from) and brush that has a bevelled end and a soft brush on the other end, and three stencils to fit the shape of most eyebrows :Thick, Thin and Natural.
It is the ease and simplicity of the application that makes this such a gem.
Firstly you brush the brow, place the stencil on the brow, peak of stencil to peak of brow. Dab a small amount of the colour onto the fluffy brush end and gently brush onto the brow from outer brow to inner brow.
It takes four minutes to set and once that time has passed you will need make-up remover to remove the product which has a clay base. Christian will break down after 24 hours but stays put when swimming, in a sauna, or showering. Mine lasted beautifully after a big sweaty run!
I use the thick template and bronze colour to go with my red hair.
The colours go over grey and are wonderful for Chemo clients or clients that suffer from Alopecia or people who don't want tattooed brows.
It retails for $39.00 and should last for 8-12 months. I have used this every single day since I purchased mine, and have recieved lots of great compliments on how great my brows look!