We just love beautiful lips here at Perfectly Smooth. I get asked lots of questions regularly about what to expect when having your lips injected, so I thought I would give you the low-down on what the usual process is.
The lips to the left are mine. Our wonderful Dr Hung has done my lips for years, so I thought I would explain the process used on me when I had them done yesterday.
We clean the face first and then place onto the lip area a numbing cream. You should be asked if you are allergic to anaesthetic or if you suffer from any heart conditions. If all good, then the cream will be placed on the lips for a short period of time. It does taste YUCK, and can also leave your tongue numb, so don't be suprised if this happens.
Prior to this, a discussion should be had about what can be achieved with your lips. Please remember, we are good, but we can't perform miracles, so if you come in with a realistic idea of what you want for your lips, it will make you happier with the outcome. We do not believe in overfilling the lips. They just look ridiculous. The only person big lips look great on is Angelina Jolie and she was born with hers!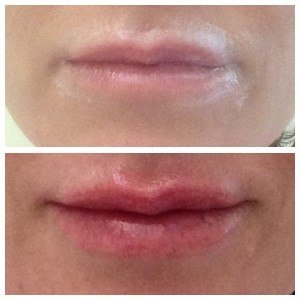 The whole process is uncomfortable and please go in expecting swelling and bruising. Swelling is a given, but not everyone bruises. If you take asprin and fish oils, then you are more likely to bruise or if you have had a few drinks the night before. It's best not to drink post treatment to keep the risk of bruising to a minimum.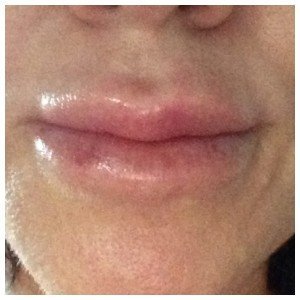 As you can see from the image to the right, I not only bruised, but swelled quite badly overnight. Throughout the following day the swelling began to disappear and within 48 hours most swelling should be gone. It really should be an exciting experience. If you feel uncertain with the person you are having the consult with, go and check out another clinic, this is your right as a consumer. We only use Juvederm products in the lips at Perfectly Smooth, however, other clinics use other products, so you need to be advised on what you think will suit you and your budget best.
Checkout our Facebook page to view some of our lips. Our consultations are complimentary, so get on down here and have a chat to us about how we can give you fabulous lips!
Click here to connect Facebook